Hawaii's #1 Rated LIVE
Real Estate Prep Course
100+ Graduates this year!
Carlos B.
I'm happy to announce that I successfully passed both the National & State examinations.
 Truly Awesome & Professional Experience. Their Curriculum, facilities and Instruction are A+!
Jennifer B.
I am incredibly grateful for their commitment to my success. I highly recommend their exceptional services to anyone looking to pursue a rewarding journey in the real estate industry.

Melissa Y.
The modules are broken down into concise and easily understandable information. Plus in-person classes with very knowledgeable and experienced teachers, passing my exam was made easy. Thanks HiRe!
Hawaii's #1 Rated LIVE
Real Estate Prep Course on
Oahu and Big Island
100+ Graduates This Year!
The Hawaii Institute of Real Estate (HiRE) offers LIVE, IN-PERSON Real Estate Pre-licensing Courses in an engaging and interactive setting.
Gabriela M.
it's the first time I've done anything other than in my native language I felt intimated in the first week but the way you taught with touches of motivation and care made me and the others students feel more confident 
Alex V.
Excellent environment for beginners interested in real estate. Military friendly!


Kevin G.
Their enthusiasm and hospitality are very wholesome. They make it feel like a family. Going in skeptical, coming out confident. They helped open up the gates to real estate and I can't thank them enough for their support and encouragement.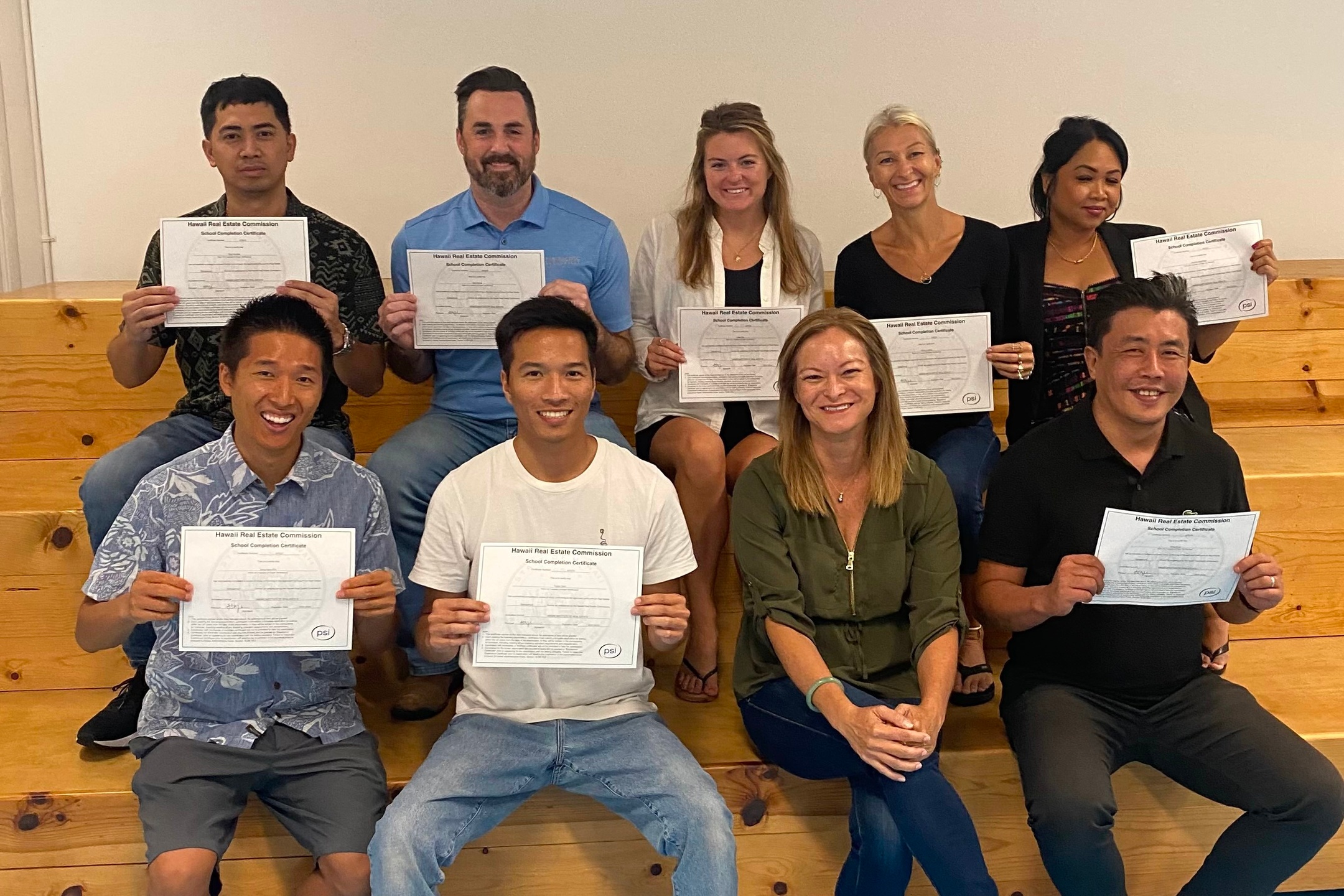 Earn Your Ticket to sit for the official License Exam
Upon passing the HiRE final exam, graduates will be awarded a School Completion Certificate. This document certifies that a person is eligible to take the Hawaii Real Estate License Exam.
Independent Real Estate School
The Hawaii Institute of Real Estate (HiRE) is an independent real estate education provider, registered with the Real Estate Branch of the DCCA and authorized to provide pre-license courses to the general public.
Trisha R.
This course is AMAZING! Instructors, book, course outline, multiple quizzes, practice exams ... I can't say enough about this experience!!
Raul H.
I officially got my license! This was the only in-person school I can find and I would have had less motivation if I did it virtually.

Brynn B.
This class was great! Very thankful to have an in-person instructor. Highly recommend for anyone looking to pursue real estate.

15-Day Agent is now
available 100% 
ONLINE
Earn your 60-hour salesperson pre-license certificate in as quickly as 15 days ... or learn at your own pace! 
Short, bite-sized lessons

Quick quizzes following each lesson

HD video and slide presentations for visual learners

Current news stories relating to Hawaii real estate

Full practice exams
15 Day AGENT
Online Learning Portal
15 Day AGENT is HiRE's proprietary Online Learning Portal. By dedicating 4 hours a day, you can complete this 60-hour course in 15 days BUT you still have the freedom to learn at your own pace! With this program, you can:
Watch/listen to course video lessons when you're on the go
Access and review class study materials online
Take Online Practice Tests from your mobile device
Download Real Estate Contract PDF samples to your computer
Learn at your own pace with access to this online portal for 120 days after purchase
Eric A.
Amazing course material and in-course navigation. Was able to pass my national and state exams on the first crack, would have been lost without the expertly guided sessions.
Sabine J.
Outstanding and exactly what I needed to prepare for exams! I was very impressed with the course from the layout, the quizzes, to the online structure!
Cecilia A.
The course offers more than just gaining real estate "book knowledge", but also the understanding of how one's mindset may impact one's real estate career!

HYBRID Live & In-Person, Independent Study
Our HYBRID In-Person / Independent Study prelicensing course was designed for motivated individuals with busy schedules, who want in-person learning at a manageable pace.
We combine 15-Day Agent with Live, In-Person Review sessions.
Interactive Study Sessions
We encourage group participation and utilize creative ways to help critical information stick!
Rosie R.
Awesome experience! We learned a lot in such a short amount of time. Met great people that I hope to see more in the future.
Nancy K.
For me it was a great course!! Coaches were very experienced and also made the atmosphere very fun and encouraging. Thank you so much.
Daniel A.
I took the accelerated class in the first week of Dec. 2021 and passed the state exam before the end of the month!
Get Licensed with HiRE's Exam Prep Course
Our HYBRID In-Person / Independent Study prelicensing course was designed for motivated individuals with busy schedules, who want in-person learning at a manageable pace.
HYBRID Live & In-Person, Independent Study
Get your questions answered at

LIVE,

in-person class sessions
HiRE Starter Pack. Everything you need to know about the licensure process, from course work to scheduling the state exam and applying for your license
Login access to

15 Day Agent: HiRE's online prelicensing portal for video lessons, study material and practice tests
Textbook:

The Hawaii Institute of Real Estate

Wiki Study Guide
The most up-to-date versions of all Hawaii Standard

Real Estate Contracts
License application assistance

(after the passing the state exam), to ensure your licensure process goes smoothly.
A stress-free, no-obligation,

career consultation. We get to know you and help you come up with a custom plan, ideas, or suggestions tailored to your goals. Available upon request.
Taxes & registration fees
WIKI STUDY GUIDE
Students in our live course will receive a copy of the Hawaii Institute of Real Estate Wiki Study Guide. This book was designed with the next generation of realtors in mind and is the most up-to-date, comprehensive, yet concise, study guide available for the Hawaii Real Estate License Exam.
The facts are delivered in bullet points (not long paragraphs) to convey the info as efficiently as possible.
Bite-sized chapters (1-3 pages) allow you to cover a new concept completely in one sitting ... even when you are short on time! Quick wins help keep you motivated, and motivation moves the process moving along.
Unlike other study guides, this book presents the material in the order an agent would encounter these topics in real life.